Noir Preserve is committed to connecting and promoting self care, wellbeing, and support for black males by providing them with access to resources that would otherwise be difficult to find. In doing so it allows them to be better for the people in their lives and communities.
Team:
Aishah Griffin, Randy Friday
Project Goal:  
Our primary goal was to discover opportunity areas for Noir Preserve to
                                 book was a guide for individuals of color to find places that were safe for
                                 them to shop. For Noir Preserve, they wanted to bring that mentality to the
                                 present with an app that would guide black men to places/services that
                                 would best cater to their needs revolving around self care and wellness.
Research Goals:
• Identify what self-care and wellbeing is for individuals within our target
• Translate that data into deliverables for Noir Preserve with the goal of
                                          helping them identify opportunity areas for the design of their app
Research and Discovery
​​​​​​​
Sample Interview Questions
• On a scale of 1-5, 1 being not at all and 5 being extremely busy, how busy would you say a typical week  is for you?
• How do you define self-care?
• What type of activities do you do that you consider self-care?
• Is there anyone that you depend on for emotional, financial, or physical support?
Interviewee Demographics
​​​​​​​​​​​​​​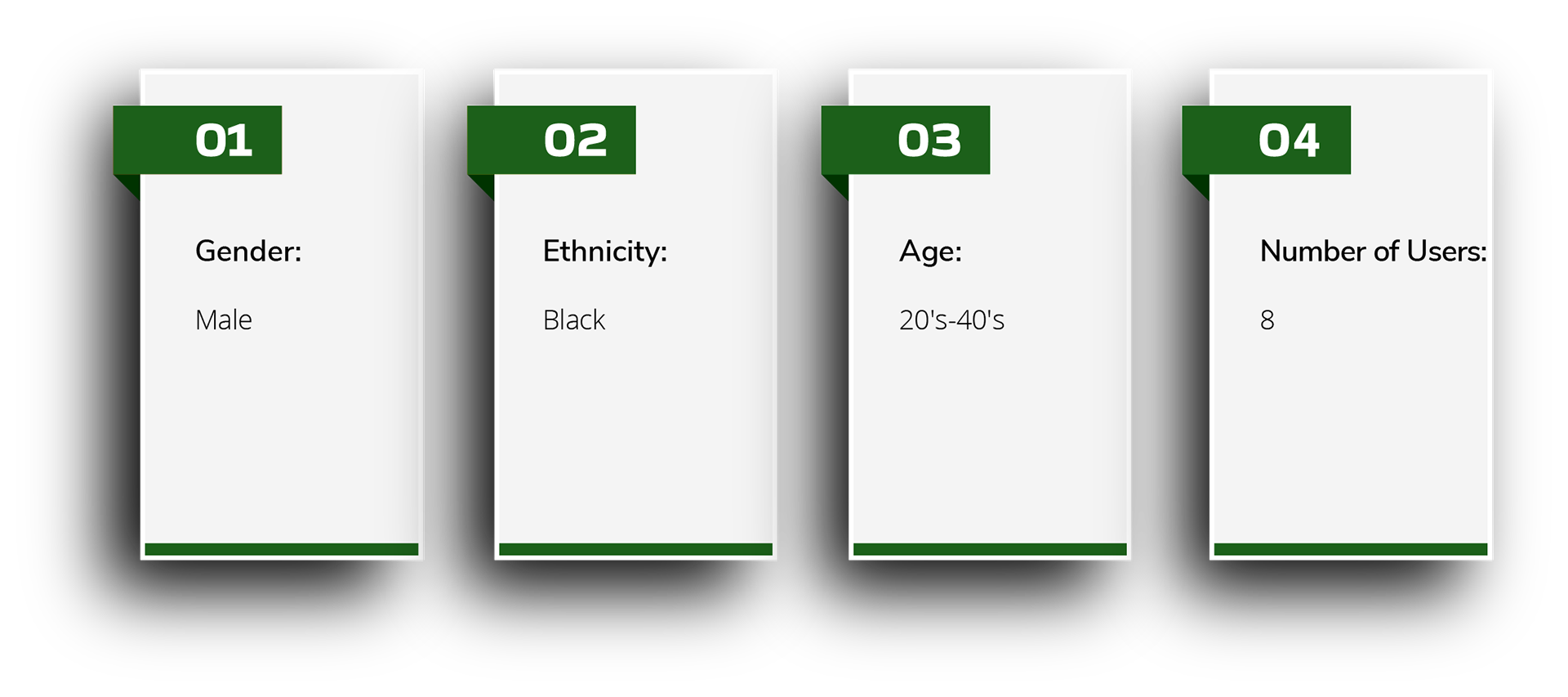 Based on the interviews, we found that
• Self-care looks different for everyone regardless of their demographic
• Self-care practices were broken down into 3 categories: Physical, Mental, and Spiritual
• There was a correlation between one's ability to take care of self-care needs and being able to
   support the important people in their lives/networks
• Self-care also included being able to confidently purchase and use services/products after
Finding products and services that cater to the needs of black men can often turn into a process of trial and error. How might we help direct them towards services that benefit them and promote their self-care routine?
Black males rely on close friends and family for support, but often become withdrawn when they don't respond in a way they addresses their needs. How might we help them communicate their personal support needs?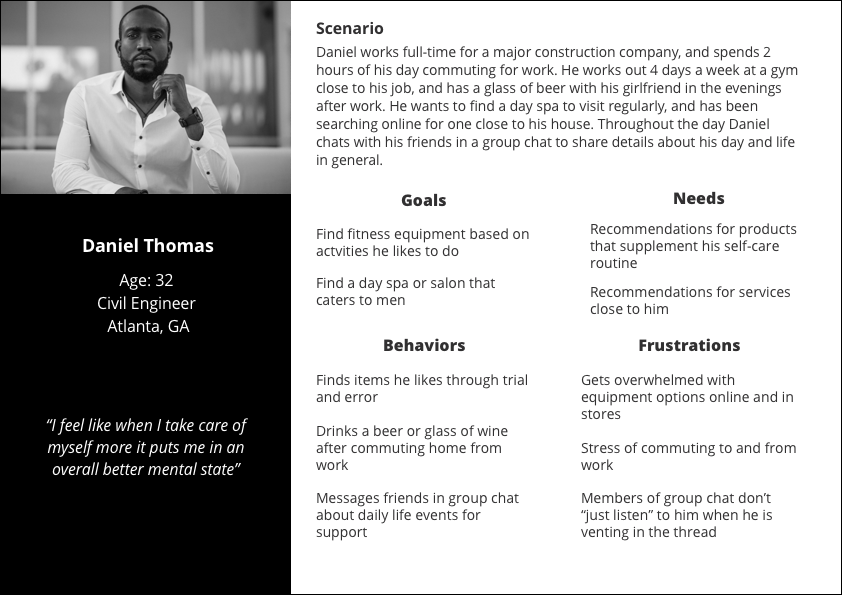 User Journey: Purchasing a Product
This reflects the user's journey of finding products and services that meet their needs. The purpose of this is to highlight the areas of opportunity for Noir Preserve, specifically in partnering with local businesses. 
User Journey: Connecting with Others
This reflects the problem areas that our users could run into when trying to get support from their communities. Users mentioned there are people who depend on them for support of varying types. Noir Preserve wants to make sure that their users are also able to feel that support when they seek it out.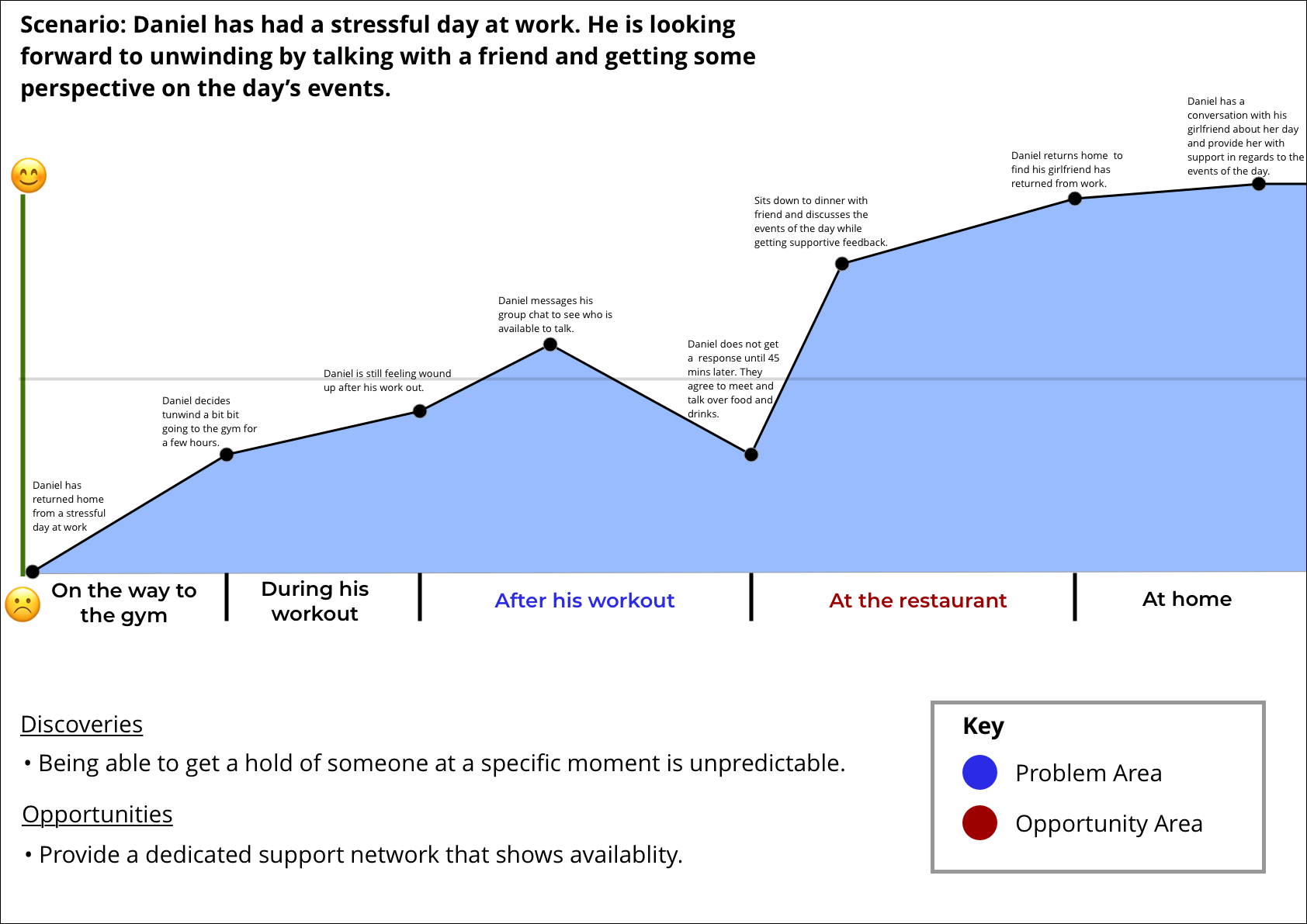 We reached our goal for this project which was to discover areas of opportunity for Noir Preserve. Our research will be used to influence design decisions as Noir Preserve moves forward in their design process for their app
• Competitive/Comparative design research on other apps that find businesses and services based on
   user input i.e. Yelp, Google Maps, Seamless, etc.
• Begin sketching designs for the interface and generate a working prototype